Revolutions 2016 – Thank You!
Thank you to all the riders, sponsors and volunteer instructors for making our 7th annual event a huge success. We raised more than $55,000 to benefit our patients with professional care coordination, transportation, pharmacy benefits and translation services.
We sincerely appreciate the generosity and support from our community!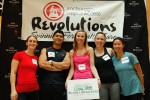 Photos by George Stransky at Alaska Digital Visions. For more photos click here.