The Colleague Newsletter:
Mt. Huntington Award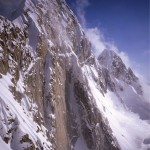 This award is granted to Anchorage Project Access providers for their commitment and generous service to our medically uninsured neighbors.
The story behind the award: Anchorage Project Access received a large framed aerial photo of Mt. Huntington as a gift from a grateful patient who received services in 2007. Mt. Huntington (elevation 12,240) is a steep rock and ice pyramid in the Alaska Range totally over shadowed by Mt. McKinley. This mountain represents to the patient the challenges that faced him while unemployed, uninsured and needing two hip replacements. The journey, while a steep climb, represents a successful summit with reclaimed health and employment.
Mt. Huntington Award Recipients
2017
John Frost MD, Caring for Knees
Anchorage Radiation Therapy Center
2016
Allergy, Asthma, & Immunology Center of Alaska
Judith Whitcomb, MD
2015
Neurological Consultants of Alaska
Anchorage Women's Clinic
2014
Alaska Retinal Consultants
Jerome List, MD
Ophthalmic Associates
Alaska Foot and Ankle
2013
Brian Sweeney, MD
Joanie Hope, MD
Rowland Gower, MD
Pathology Associates
2012
Sleep Center of Alaska
Michelle Thomas, MD
Katmai Oncology Group
Mary Totten, MD
2011
Orthopedic Physicians of Anchorage
United Physical Therapy
Anchorage Fracture & Orthopedic Clinic
Michael McNamara MD
Alaska Center for Dermatology
2010
Alpine Urology
Internal Medicine Group
Peter Marbarger, MD
John Hall, MD
Al Parrish, CEO, Providence Health & Services Alaska
Alaska Heart Institute
Ruth Higdon, MD
2009
Steven Menaker, MD
James O'Malley, MD
RBMS, a Meritain Company
Anne Morris, MD
Providence Imaging Center
Michael Mraz, MD
George Stransky, MD
2008
Buffinton Burtis, MD
Byron Perkins, DO and Heather Felder
Douglas Haghighi, MD
David McGuire, MD
Our Annual Thank You Ad
Each year we recognize the physicians, donors, medical facilities and board members who make Anchorage Project Access possible.
2017 Alaska Dispatch Thank You Ad