2020 Rider Registration Online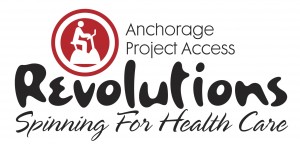 11th Annual Fundraiser • February 8, 2020 • Anchorage 5th Avenue Mall • 10 AM to 3 PM
Registration and Waiver Form
Yes, I want to ride on a team in Revolutions, Spinning for Health Care.
Instructions: Complete all the information below and send it to us electronically or print the registration form and mail it in. Space is limited so sign up early.
Liability Waiver:
I acknowledge that by submitting this form, I am releasing Anchorage Project Access, Alaska Fitness, The Alaska Club and Northwestern Simon, Inc. (Anchorage 5 Avenue Mall), and their respective agents, employees, members, sponsors, promoters, and affiliates (collectively "Releasees") from liability. This release form is a contract with legal consequences. I have been advised to read it carefully before submitting this form.
In consideration of the Releasees, I hereby freely agree to and make the following contractual representations and agreements.
I understand there are possible dangers in participating in a spinning class and fully assume the risks associated with such participation including, by way of example, and not limitation, the following: the dangers arising from surface hazards, equipment failure, the Releasees own negligence, and the possibility of serious physical and/or mental trauma or injury associated with athletic spinning.
For myself, my heirs, executors, administrators, legal representatives, assignees, and successors in interest (collectively "Successors") I hereby waive, release, discharge, hold harmless, and promise to indemnify and not to sue the Releasees and the sponsors of this event, the organizer and any promoting organizations, property owners, law enforcement agencies, all public entities, special districts and properties, and their respective agents, officials, and employees through or by which the events will be held, (the foregoing are also collectively deemed to be Releasees), from any and all rights and claims including claims arising from the Releasees own negligence, which I have or which may hereafter accrue to me and from any all damages which may be sustained by me directly or indirectly in connection with, or arising out of, my participation in or association with the event, or travel to or return from the event.
I agree it is my sole responsibility to be familiar with the spinning bikes, the Releasee's rules, and any special regulations for the event. I understand and agree that situations may arise during the event which may be beyond the immediate control of the organizers. I accept responsibility for the condition and adequacy of my equipment. I have no physical or medical condition which to my knowledge, would endanger myself or others if I participate in this event, or would interfere with my ability to participate in this event.
I agree, for myself and my successors, that the above representations are contractually binding, and are not mere recitals, and that should I or my successors assert my claim in contravention of this agreement, the asserting party shall be liable for the expenses (including legal fees) incurred by the other party or parties in defending, unless the other party or parties are finally adjudged liable on such claim for willful and wanton negligence. This agreement may not be modified orally and a waiver of any provision shall not be construed as a medication of any other provision herein or as consent to any subsequent waiver or modification.
Every term and provision of this agreement is intended to be severable. If anyone or more of them is found to be unenforceable or invalid, that shall not affect the other terms and provisions, which shall remain binding and enforceable.