The 2019 Revolutions event was a tremendous success! We could not have done it without our sponsors and community involvement!
On February 9th, 2019 we had almost 65 riders come out to support Anchorage Project Access by spin cycling on the first floor of the 5th Avenue Mall. There were instructors, music, and guests cheering them on as they rode with a passion for APA!
SAVE THE DATE FOR THE 2020 EVENT! Tentatively scheduled for February 7, 2020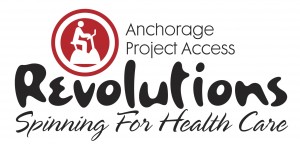 Saturday, February 9, 11:00-4:00 at the Anchorage 5th Avenue Mall
RIDE FOR An hour for a GREAT CAUSE AND A FANTASTIC PRIZE!
Every life matters at Anchorage Project Access.  By participating in our 10th Annual Revolutions fund raiser as a sponsor or a spin cycle rider, you are contributing to access to health care for our friends and neighbors in need.  You will be part of an exciting fundraiser that contributes to helping our community members access donated medical and dental care, sign up for health insurance and reduce the use of emergency departments for primary care. Thank you!
SPONSOR
Your business will receive recognition in promotional materials and throughout the event.  You will be a key supporter of Anchorage Project Access.  Click on the Sponsorship Levels and Benefits link for more information.
SPIN CYCLE RIDER
Each rider is asked to gather $250 or more in donations to ride in the event for one hour.  You can ask friends, coworkers and family to raise donations and ride as a group with each rider contributing to his/her hour of time on the spin cycle.
The event is loads of fun and a great workout.  There will be prizes given away throughout the event. A grand prize of a cross-country ski package from AMH with a two-hour lesson with Olympian Holly Brooks for the individual rider who raises the highest total in donations.
There will be professional spin instructors donating their time; a DJ/MC and music.  Whether you are a beginner or an advanced spin cyclist, this will be a great way to celebrate the new year!
To participate, you need to register online and complete and submit a Rider Donation Form.
Thank you for being part of helping others in need through your donation to Anchorage Project Access!

AMH has generously donated an XC Ski Package!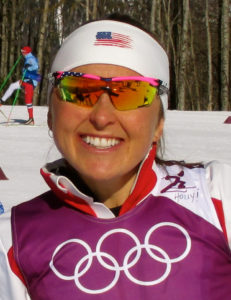 Holly Brooks is "happily retired from my career as a professional athlete and have turned my attention and passions towards helping other athletes. At my business Holly Brooks LLC, I combine my love of the sport, my rich athletic career, and my academic training into services designed to empower girls and women to achieve their dreams."