COVID-19 Vaccines For Children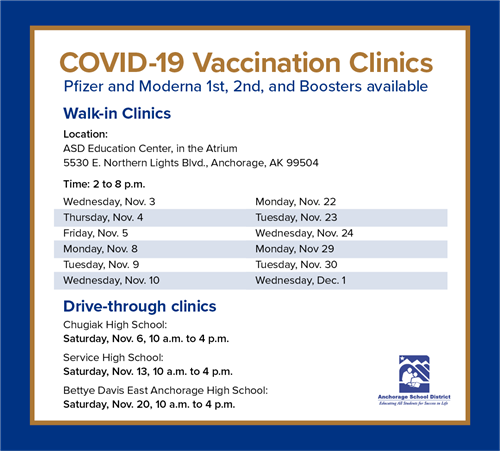 Information:

Pfizer and Moderna
1st, 2nd, boosters available
Open to all eligible–staff, students, community members
Parents/guardians need to accompany children
No flu vax offered at these events
No scheduling however, people should pre-register if possible.
Walk-in only

Location:
ASD Education Center, in the atrium
5530 E Northern Lights Blvd., Anchorage, AK 99504
Time: 2 to 8 p.m. Dates:

Wednesday, Nov. 3
Thursday, Nov. 4
Friday, Nov. 5
Monday, Nov. 8
Tuesday, Nov. 9
Wednesday, Nov. 10
Monday, Nov. 22
Tuesday, Nov. 23
Wednesday, Nov. 24
Monday, Nov 29
Tuesday, Nov. 30
Wednesday, Dec. 1

Drive-through clinics:

Service High School, Saturday, Nov. 13, 10 a.m. to 4 p.m.
Bettye Davis East Anchorage High School, Saturday, Nov. 20, 10 a.m. to 4 p.m.
Chugiak High School, Tuesday, Nov. 6, 10 a.m. – 4 p.m.
Call our office at 907-743-6652 and speak with our COVID-19 specialist.
You can also text for more information: 907-931-0222.