Mo Hillstrand DNP, ANP
Board Member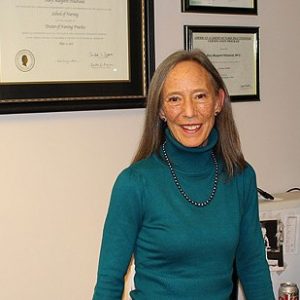 Dr. Mary Margaret Hillstrand, known to many as "Mo", was born and raised in Alaska. Her accomplishments are many, and her career in nursing and neurology spans over three decades.
Dr Hillstrand received a Bachelor of Science in Nursing degree from the University of Alaska-Anchorage in 1979 and worked as an RN in ICU, CCU, ER and medevac. She earned a Master of Science in Health Care Business Management in 1998 from UAA, and a second Master of Science in Nursing in 1998 by completing the Family Nurse Practitioner program at UAA. In 2011, Mo completed her doctoral degree, Doctor of Nursing Practice, at Vanderbilt University in Nashville, Tennessee, conducting a dissertation on Multiple Sclerosis (MS) in Alaska.
Dr Hillstrand is currently an adjunct professor at the UAA School of Nursing, as well as Vanderbilt University School of Nursing. She has been involved in teaching and/or curriculum development at UAA since 1999.
She has served as Advanced Nurse Practitioner at hospitals and clinics throughout Anchorage. She was owner-partner with Susitna Neurology from 2001-2006 and started her solo practice in Anchorage in 2010, focusing on general neurology and treating individuals with central nervous system (CNS) disorders.
Dr Hillstrand is an author of numerous books, clinical monographs, and teaching materials. She has presented across Alaska and into Washington on a broad range of medical topics including MS, headache, the impact of the Affordable Care Act, and various neurology topics and has developed strong bridges with neurology specialists across the Lower 48. She has maintained rigorous academic research and evidence-based practice standards to provide patients and clinicians with the most current information about CNS disorders and appropriate treatment options.