Heidi Otsby, DDS
Board Member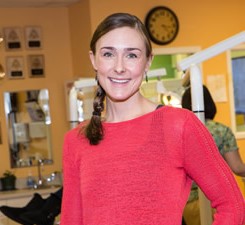 Heidi was born in Arlington Heights, Illinois and was raised in Kildeer, a small northwest suburb amongst the vast suburbia of Chicago. She was a three sport athlete at Stevenson High School, and then decided to focus on volleyball in order to pursue a collegiate career. Heidi received a full ride scholarship for volleyball to East Carolina University, which is in Greenville, NC- home of the Pirates! While obtaining her degree in Biology and graduating Summa Cum Laude and Valedictorian of the Biology department, she also was the captain of the volleyball team and set four school records. In her final season as a senior, Heidi was named East Carolina University Female athlete of the Year, Conference USA Woman of the Year, and was a First Team Academic All-American.
After undergrad, Heidi attended dental school at the University of Iowa in Iowa City where she met her husband Jesse, who is now a general dentist here in Anchorage. During dental school, Heidi decided to specialize in pediatrics and was accepted into the Lutheran Medical Pediatric Dental Residency Program at the Alaska Native Medical Center in Anchorage. She and Jesse are outdoor enthusiasts and wanted an adventure, so immediately following their wedding and graduation they did the big drive along the Alcan Highway and moved to Alaska. It was supposed to be a two-year adventure while completing the pediatric residency program, but Heidi and Jesse fell in love with Alaska and the community and they decided to stay. They couldn't imagine giving up all the backcountry skiing, hiking, backpacking, mountain biking, fat tire biking, and camping that Alaska has to offer!
After completing her two year pediatric dental residency at ANMC and becoming Board Certified , Heidi joined the family at Just Kids in 2013 and she found her second home! Heidi is excited about carrying on the traditions Christine has started, and looks forward to nurturing and growing the Just Kids family for years to come. She is an active member of the All Alaska Pediatric Partnership and Alaska Dental Action Coalition, is on the Medicaid dental advisory committee, and is a board member for Anchorage Project Access.