2020 Revolutions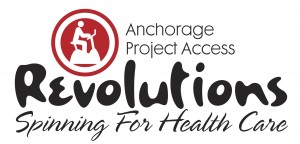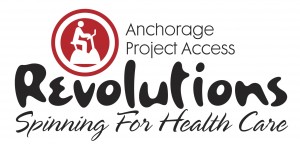 11th Annual Fundraiser • February 8, 2020 • Anchorage 5th Avenue Mall • 10 AM to 3 PM
Join us for the 11th year of our high energy, annual fundraiser- Revolutions Spinning for Health Care stationary spin cycle event at the Anchorage 5th Ave Mall!! You can sponsor the event or a team, ride as an individual or as part of a team, or just cheer us on – the choice is yours!
Every year with your support, Anchorage Project Access (APA) provides hundreds of low-income, uninsured individuals in our community access to donated medical and dental care.  We assist our patients to receive pro bono care, enroll in health insurance, connect with a primary care provider and learn more about how they can regain and maintain their health and return to work, family activities and a life free of pain and ill health.
Our Revolutions event funds patient benefits and care coordination for hundreds of patients served each year through APA.  Since 2005, in partnership with over 600 donating specialty medical providers and local dentists, APA has coordinated over 17,000 appointments for those needing care.  Over 3,590 individuals have received donated care with over 11,000 specialty services provided.  We have coordinated over $47.7 million dollars worth of donated care in Anchorage.
We are asking you to sponsor this exciting event and be part of a fantastic team of caring people joining together to support those most in need to regain their health when they have no resources to access care.
Revolutions is our primary fundraiser. This FUNdraiser consists of sponsors, teams, and individuals that come together to SPIN FOR HEALTH CARE! We start spinning at 10 AM and invite teams to spin every hour on the hour from 10 AM to 3 PM. Last year, we did a "teaser" video so you can get a better feel of what we are doing. You can sponsor, ride, gather a team to ride or be a sponsor and support others to ride.  *There is no requirement to ride in the event. You and your team can wear your business' logo wear.  As a sponsor, you can request a specific time for your team to ride and we promote your business with social media, TV spots, websites, and all promotional materials. 
The Alaska Club donates the stationary bikes and coordinates the instructors who donate their time. Alison's Relocation Inc offers an extreme discount to pick up, deliver and set up the stationary bikes for team use. The 5th Avenue Mall (Simon's) offers the space and coordination (security, mall vendor communication, pre/post labor for less than cost). This helps create an AMAZING team to make this FUNdraiser happen.
Will you join us for 2020 Revolutions? Will you assist in creating a stronger, healthier Anchorage Community? If this vision matches up with your company vision, contact us. Want to put together a team to spin on February 8, 2020? On the fence? Need more details? Call us…give us 7 minutes, or less, of your time to convince you that this is a great opportunity for your company to participate in our local community.